[vc_row][vc_column width="1/2″][vc_column_text]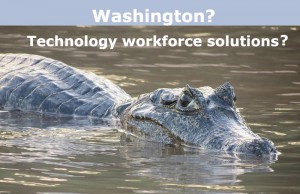 [/vc_column_text][/vc_column][vc_column width="1/2″][vc_column_text]Pondering the future of our next generation isn't something that occupied my mind much in my 20's. As life experience settles in, waistlines expand a bit and the party life is a distant memory; focus turns toward more philosophical concerns.[/vc_column_text][/vc_column][/vc_row][vc_row][vc_column][vc_column_text]We've got a big problem. Science and Technology are advancing at the speed of light and today's students will not be prepared for the high-paying jobs accompanying this trend. The fact is, that for every qualified person in computer science, there will be 20 jobs unfilled.
The buzz words now are American Jobs, Keep Jobs in America. There is nothing wrong with that. It's great. To think though that manufacturing jobs are going to return to this country as was in past ages is sheer folly. Yes, we will make things in our country, but technology will be the fastest growing segment of the labor market. If we don't bring our youth into the technology arena, we will be woefully ill prepared for this inexorable trend.[/vc_column_text][vc_column_text]Problem with H-1B
Already, technology jobs outweigh the number of qualified applicants. Companies are hiring people from other countries on special H-1B Visas granted specifically to fill that gap.
The problems with H-1B visas are two-fold. Systemic abuse and a short-term, band-aid approach to the ever increasing challenge of labor skills mismatch.[/vc_column_text][vc_column_text]IEEE-USA and other like-minded and well-respected organizations oppose the H-1B program, suggesting it undercuts wages and displaces American workers. Others like TecServe Alliance,  a leading IT & engineering staffing association dedicated to advancing excellence and ethics within the IT & engineering staffing and solutions industry advocates for equal access to the program, which has long been dominated by large India-based outsourcers. Decision-makers in Washington are up to their asses in alligators (not unexpected in a swamp) and the politics on both sides of the debate is fierce.[/vc_column_text][vc_column_text]Ultimately, If there is to be any solution to the problem it must begin early in our approach to education.  Technology is slowly beginning to find its way into classrooms yet more innovation and problem-solving skills must be infused.
Microsoft is doing wonderful work in this regard, reaching teachers and providing online courses that present technology, science and engineering in an exciting light. More organizations will need to get involved.[/vc_column_text][vc_column_text]Nationwide, tech firms, non-profits, hospitals, biotech/pharmaceuticals and many others are offering internships for high school students as well as seasoned worker retraining programs in support of STEM.
STEM is a curriculum based on the idea of educating students in four specific disciplines — science, technology, engineering and mathematics — in an interdisciplinary and applied approach. Rather than teach the four disciplines as separate and discrete subjects, STEM integrates them into a cohesive learning paradigm based on real-world applications.
http://www.livescience.com/43296-what-is-stem-education.html
[/vc_column_text][/vc_column][/vc_row][vc_row][vc_column][vc_column_text]As individuals what can we do?  Never underestimate to power in numbers. There are dozens of Facebook groups in support of STEM. Groups for teachers, parents, professionals. Join them and see what is happening in them. Start your own Facebook Group. LinkedIn is a wonderful place to do the same. Share these valuable resources with teachers and influencers.[/vc_column_text][/vc_column][/vc_row]