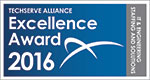 Millennium Consulting is proud to be recognized as a staffing industry leader in the 2016 TechServe Alliance Excellence Awards!
A huge congratulations to our team—your hard work and dedication has earned us one of the most prestigious tech industry awards.
The TechServe Alliance Excellence Awards were developed to shine a spotlight on the performance leaders in our industry. The awards honor and acknowledge IT & engineering staffing and solutions firms that deliver outstanding performance, productivity and commitment to continuous improvement.
After 20-years of success we still base our business on people. Even though our industry is all about short-term engagements, we believe in long-term relationships. It's never been about grabbing resumes and tossing them over the client wall. We serve as a conduit between client and candidate and we advocate for both. We are dedicated to providing the best opportunities to our candidates and the best talent to our clients.