[vc_row][vc_column width="1/2″][vc_column_text]

[/vc_column_text][/vc_column][vc_column width="1/2″][vc_column_text]If you read my blog, you know I'm concerned there aren't enough youth focused on coding and computer science. These are the high-paying jobs of the future and as things are, they will be left unfilled. Let's encourage our kids to get fired up about coding.[/vc_column_text][/vc_column][/vc_row][vc_row][vc_column][vc_column_text]
Congress is sponsoring the 2017 Congressional App Challenge. This is a public effort to encourage kids to learn how to code, through annual district-wide competitions hosted by their district's Member of Congress.
The district-wide competitions, take place from July through early November and are currently accepting applications.
The students will code original applications for the chance to be selected for recognition by their Member of Congress, win prizes, and have their work put on display in the Capitol Building in Washington, DC.
Mission from the Congressional App Challenge website:
http://www.congressionalappchallenge.us/info-and-resources/submission-process-and-rules/
The Congressional App Challenge's mission is to inspire, include, and innovate efforts around STEM, coding, and computer science education:
Inspire: To inspire students from every corner of the country to explore STEM, coding and computer science through hands-on practice;
Include: To actively include and engage students from communities that are traditionally underrepresented in the tech community; and
Innovate: To innovate policy making by connecting Members of Congress to new and emerging technologies through personal interactions with their student constituents.
 Students may participate based on the following qualifications:
The Challenge is open to students K-12
Participation may be either in the district they live or attend school and their Congressional representative must be endorsing the program.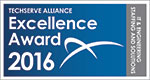 Millennium Consulting is proud to be recognized as a staffing industry leader in the 2016 TechServe Alliance Excellence Awards!
[/vc_column_text][/vc_column][/vc_row]