Our Blog
25 Reasons We've Had 25 Years of Success: 13. Our Business is Based on Relationships, Not Transactions
13. Our business is based on relationships, not transactions.
For 25 years, Millennium Consulting's focus has been on long-term relationships with clients and consultants. Our strong partnerships mean better results for you and your organization. Our team looks beyond a single placement to build strong relationships from entry level to C-level.
Most staffing business models are predicated on a transactional approach that focuses on a single point in time, and that is what sets Millennium Consulting apart. Our aim is to develop long-term relationships, founded on mutual respect, trust, and an unwavering commitment to integrity.
When you choose Millennium for your IT and financial staffing needs, you can expect not only to be provided with best in class talent solutions, but to develop a lasting relationship that will benefit you and your organization for years to come!
Testimonial:
"Millennium Consulting is the trusted partner for technical resources. They have not only provided me talented Consultants and Permanent staff, they have invested time to learn my business at several organizations over the past 10 years. They differentiate themselves by not being just another transactional vendor, but understanding the specific skills needed based on projects and working diligently to identify resources that possess those needed skills. They have taken time to explain the marketplace and offer a flexible approach to staffing multi-million dollar projects. I recommend them without reservation." — Mike G., Healthcare and Higher Ed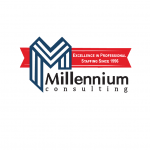 Author's Bio
For 25 years, Millennium Consulting has been a leader in professional staffing. Today, Millennium caters to a diversified portfolio of market-leading customers. Since its establishment, Millennium has relentlessly focused on unwavering integrity while perfecting the recruitment of subject matter experts for complex, mission critical projects. Our approach remains unchanged: Sweeping analysis of our clients' staffing initiatives and organizational culture, combined with a personal approach to long-term relationship building to identify the most impactful talent.