Our Blog
25 Reasons We've Had 25 Years of Success: 14. Strong, Enduring Relationships with RI & New England Clients
14. Strong, enduring relationships with RI & New England clients
As a New England-based specialist in IT staffing and recruitment services, Millennium Consulting is proud to have developed successful, meaningful, and long-lasting relationships with many local clients over our 25 years in business. Serving local clients of every size in various industries, from healthcare, government, lottery & gaming, and higher education to medical device, pharmaceutical, and biotechnology, we leverage our enduring relationships to consistently furnish technology subject matter experts who are fully vetted and highly competent.
Based on these established relationships with our clients, we are able to provide a consultative, personalized approach integrating in-depth labor market knowledge to ensure more enduring outcomes. Our team applies discerning questions and develops the knowledge and insights needed to consistently connect the right individual with the right organization, and our long term relationships have enabled us to do this efficiently and effectively. It works for us and for our clients and consultants, many of whom have been working with us consistently and successfully since our founding 25 years ago.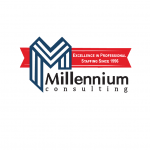 Author's Bio
For 25 years, Millennium Consulting has been a leader in professional staffing. Today, Millennium caters to a diversified portfolio of market-leading customers. Since its establishment, Millennium has relentlessly focused on unwavering integrity while perfecting the recruitment of subject matter experts for complex, mission critical projects. Our approach remains unchanged: Sweeping analysis of our clients' staffing initiatives and organizational culture, combined with a personal approach to long-term relationship building to identify the most impactful talent.