Our Blog
25 Reasons We've Had 25 Years of Success: 12. Established Clients & Consultants in Puerto Rico
12. Established Clients & Consultants in Puerto Rico
In 2008, our founder and CEO Paul Hansen saw the vast potential in the growing technology staffing industry in Puerto Rico and decided to carve a place for Millennium Consulting in a new region. Operating out of San Juan and Humacao, Paul quickly built a team of highly qualified local account executives and talent acquisition specialists. Over the course of 13 years, MCPR has achieved an impressive client base spanning many industries, including healthcare, manufacturing, banking/finance, telecom, retail, food & beverage, insurance, utilities, local government, software, technology, and more. MCPR has had great success in providing top notch consultants for these clients, including:
Project Managers
Workday consultants
Project Coordinators
Front End Developers
Technical Writers
Web Developers
IT Forensic Analysts
.Net Developers
System Admins
Network Admins
Server Admins
SQL Developers
Security Analysts
QA Testers/Analysts
Business Analysts
Production Support Specialists
Infrastructure Specialists
PHP Developers
Business Intelligence consultants
DBAs
And more!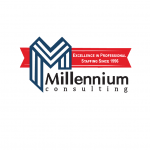 Author's Bio
For 25 years, Millennium Consulting has been a leader in professional staffing. Today, Millennium caters to a diversified portfolio of market-leading customers. Since its establishment, Millennium has relentlessly focused on unwavering integrity while perfecting the recruitment of subject matter experts for complex, mission critical projects. Our approach remains unchanged: Sweeping analysis of our clients' staffing initiatives and organizational culture, combined with a personal approach to long-term relationship building to identify the most impactful talent.