Our Blog
25 Reasons We've Had 25 Years of Success: 1. We are Industry Experts in IT and Finance Staffing.
1. We are Industry Experts in IT and Finance Staffing.
Over the past two and half decades, Millennium Consulting has placed thousands of consultants in contract, contract to hire, and permanent roles with our many large and small client companies throughout New England, Puerto Rico, and the contiguous United States. Between our talent acquisition and customer engagement teams, we possess over 100 years of staffing industry experience. Our industry certified staff boasts advanced knowledge and mastery of labor market trends, employment law, and recruiting best practices to guide every tenet of our service philosophy.
Even with our impressive experience over the years, there is always room for learning and growth. The Millennium Consulting team is committed to staying up to date and knowledgeable on the most recent technologies and best practices. On a monthly basis, our team is attending relevant industry webinars and virtual meetings, as well as participating in a company book club, where we read and discuss the latest publications relating to our industry and craft.
Our work has not gone unnoticed by our clients and consultants. Take it from Pam B., who works with one of our National P&C Insurance Firm clients: "Millennium helped us acquire resources for a high-profile project. They came through in a matter of days with highly qualified candidates. Our project would not have been successful without the excellent resources Millennium provided to us."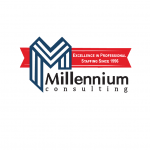 Author's Bio
For 25 years, Millennium Consulting has been a leader in professional staffing. Today, Millennium caters to a diversified portfolio of market-leading customers. Since its establishment, Millennium has relentlessly focused on unwavering integrity while perfecting the recruitment of subject matter experts for complex, mission critical projects. Our approach remains unchanged: Sweeping analysis of our clients' staffing initiatives and organizational culture, combined with a personal approach to long-term relationship building to identify the most impactful talent.