Our Blog
25 Reasons We've Had 25 Years of Success: 2. The Wide Breadth of Industries We Serve
2. The Wide Breadth of Industries We Serve
Over the course of 25 years in professional staffing, Millennium Consulting has placed IT and Finance consultants with companies spanning a huge spectrum of industries. Some of our best clients, particularly those local to Rhode Island and Massachusetts, have been working with us at Millennium for the full 25 years! Here's a snapshot of the many industries we have in-depth experience providing talent for:
Biotech
Casinos
Chemicals
Electrical & Electronic Manufacturing
Financial Services/Banking
Food & Beverage
Health Insurance
Higher Education
Hospitality
Hospitals & Healthcare
Information Technology & Services
Infrastructure
Investment Management
Leisure, Travel & Tourism
Local Government
Lottery/Gaming
Luxury Goods & Jewelry
Manufacturing
Medical Devices
Non-Profit
P&C Insurance
Packaging & Containers
Pharmaceutical
Real Estate
Retail
State Government
Software Design/Development
Transportation
Utilities
Web Development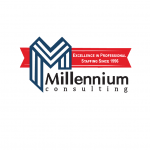 Author's Bio
For 25 years, Millennium Consulting has been a leader in professional staffing. Today, Millennium caters to a diversified portfolio of market-leading customers. Since its establishment, Millennium has relentlessly focused on unwavering integrity while perfecting the recruitment of subject matter experts for complex, mission critical projects. Our approach remains unchanged: Sweeping analysis of our clients' staffing initiatives and organizational culture, combined with a personal approach to long-term relationship building to identify the most impactful talent.