Our Blog
25 Reasons We've Had 25 Years of Success: 8. Our Capabilities to Provide the Best Qualified Candidates for Our Clients' Needs
8. Our Capabilities to Provide the Best Qualified Candidates for Our Clients' Needs.
Over the past 25 years, the Millennium Consulting team has honed their craft for finding the best in class, most qualified consultants and full time employees to meet the unique needs of each of our clients. The goal of every staffing engagement is an outstanding match of talent to an organization's need. Process excellence goes beyond that, with every step in the pursuit structured to move forward with maximum efficiency and assured quality. We have refined our process over 25 years to deliver a positive experience and consistent outcomes. Our account managers and recruiters are aligned based on industry knowledge, previous client engagements and fluency in anticipated requirements (both technical and market-based).
Our proven process entails:
Structured in-depth candidate engagement.
Candidate referencing from verified and quality sources.
Thoroughly vetted candidates based on stringent background checks.
Assured candidate proficiency in desired technologies, as verified by online skills testing and technical interviews.
Ongoing candidate interaction through client interviews, on-boarding and project engagement.
Don't just take our word for it:
"I have worked with the staff of Millennium Consulting at multiple organizations now. As a hiring manager, their recruiting staff has provided me with excellent resources. I am well aware of their recruiting staff's ongoing efforts to screen candidates and utilize their network to not only find the right candidates, but minimize our exposure to risk. I recommend Millennium Consulting and feel confident they will continue to provide excellent service to their clients." — Emma J., National Financial Services Company
"Millennium is one of the few staffing companies that I will work with. The people they have provided me are without question professional, experienced, reliable and I have been extremely happy with everyone they have brought to me." — Laurie R., Fortune 50 Global Financial Services Company
"Millennium Consulting has done a very good job staffing our contract labor requirements in the New England region. They are timely, provide quality resources and work within our price model. I also feel they operate with integrity, which is of utmost importance when securing a staffing partner." — Steven B., Fortune 50 Global Computer and Services Company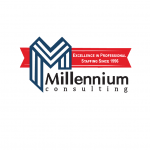 Author's Bio
For 25 years, Millennium Consulting has been a leader in professional staffing. Today, Millennium caters to a diversified portfolio of market-leading customers. Since its establishment, Millennium has relentlessly focused on unwavering integrity while perfecting the recruitment of subject matter experts for complex, mission critical projects. Our approach remains unchanged: Sweeping analysis of our clients' staffing initiatives and organizational culture, combined with a personal approach to long-term relationship building to identify the most impactful talent.