Our Blog
25 Reasons We've Had 25 Years of Success: 4. We Exceed Customer Expectations in Quality, Delivery, Pricing, Response, and Retention
4. We Exceed Customer Expectations in Quality, Delivery, Pricing, Response, and Retention
Millennium Consulting has been laser focused over the last 25 years on the provision of best-in-class IT and finance professionals providing strategic, high value business solutions that meet or exceed our clients' varying organizational challenges. We are passionate about excellence and innovation in approaching customer challenges, resulting in highly successful engagements. This commitment to excellence has provided the opportunity to establish, grow, and nurture highly beneficial and successful relationships with our clients, both long standing and new. Our diverse, experienced, and highly qualified team of recruiters and account managers work together to deliver the absolute best talent in a timely manner with a high retention rate. For us at Millennium, we do not believe this industry is transactional, but instead is based on fostering strong, long lasting relationships.
Check out some testimonials from a few of our amazing clients:
"Millennium Consulting is the trusted partner for technical resources. They have not only provided me talented Consultants and Permanent staff, they have invested time to learn my business at several organizations over the past 10 years. They differentiate themselves by not being just another transactional vendor, but understanding the specific skills needed based on projects and working diligently to identify resources that possess those needed skills. They have taken time to explain the marketplace and offer a flexible approach to staffing multi-million dollar projects. I recommend them without reservation." — Mike G., Healthcare and Higher Ed
"Millennium is one of the few staffing companies that I will work with. The people they have provided me are without question professional, experienced, reliable and I have been extremely happy with everyone they have brought to me." — Laurie R., Fortune 50 Global Financial Services Company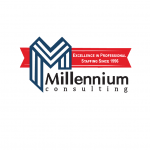 Author's Bio
For 25 years, Millennium Consulting has been a leader in professional staffing. Today, Millennium caters to a diversified portfolio of market-leading customers. Since its establishment, Millennium has relentlessly focused on unwavering integrity while perfecting the recruitment of subject matter experts for complex, mission critical projects. Our approach remains unchanged: Sweeping analysis of our clients' staffing initiatives and organizational culture, combined with a personal approach to long-term relationship building to identify the most impactful talent.