Our Blog
25 Reasons We've Had 25 Years of Success: 21. Year Up Mentoring
21. Year Up Mentoring
Millennium Consulting is honored to have had our team members serve as mentors for the Year Up Providence Campus. Year Up is an incredible organization that helps young adults gain experience, learn skills, and find support in pursuit of closing the "Opportunity Divide" and getting on track to gainful employment. With 35 campuses nationwide and over 29,000 students served, Year Up "is committed to ensuring equitable access to economic opportunity, education, and justice for all young adults—no matter their background, income, or zip code" (yearup.org/about).
The Millennium team, particularly Jim Hansen, Sr. VP of Customer Engagement, is proud to have served as a Year Up mentor since 2007. These mentorships have focused on obtaining internships, job interview prep, strategies for getting hired, and more!
To learn more about Year Up and all the fantastic work they do, check out their website!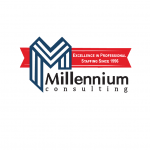 Author's Bio
For 25 years, Millennium Consulting has been a leader in professional staffing. Today, Millennium caters to a diversified portfolio of market-leading customers. Since its establishment, Millennium has relentlessly focused on unwavering integrity while perfecting the recruitment of subject matter experts for complex, mission critical projects. Our approach remains unchanged: Sweeping analysis of our clients' staffing initiatives and organizational culture, combined with a personal approach to long-term relationship building to identify the most impactful talent.