Our Blog
25 Reasons We've Had 25 Years of Success: 18. We Provide the Best Opportunities for Our Candidates
18. We Provide the Best Opportunities for Our Candidates
At Millennium Consulting, our goal is to solve workforce challenges and deliver positive outcomes for the consultants and clients we serve. We know that navigating the process of finding a new employment opportunity can be daunting, and our team is here to help. When you select a professional staffing firm, you expect a trusted partner. Our recruiters don't just source and scan resumes, they take the time to get to know each candidate and their specific skillset through open communication over phone, email, video conferencing, and (pre-COVID-19) in person. Communication doesn't stop once a placement is made; we continue to stay in touch and regularly check in with our active consultants to ensure engagements are successful and positive.
Our approach is to build meaningful relationships with our consultants, utilizing our knowledge of the latest technologies and labor market trends to place them in roles best suited to their skills and needs. We identify and understand candidates' goals, aspirations, concerns, problems, and frustrations, and address them with skill, resourcefulness, integrity, and professionalism. Through discerning questions, we develop the knowledge and insights needed to consistently connect the right individual with the right organization and further the career aspirations of the talented professionals we represent.
Here are a couple of testimonials from consultants we work with:
"I would like to take this opportunity to thank you for all the support and help you and Millennium Consulting employees gave me during this time. They are definitely a team for which it is an honor to work, I will recommend you always." – Carlos Z., IT Connectivity SA/Programmer
"Thanks for all your support particularly in ensuring that all my payments were securely and timely deposited, it's the highest level of professionalism I have experienced in my consulting years … you will be my first choice of staffing company when I start looking for my next career opportunity." – C.B., Project Manager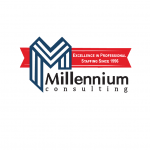 Author's Bio
For 25 years, Millennium Consulting has been a leader in professional staffing. Today, Millennium caters to a diversified portfolio of market-leading customers. Since its establishment, Millennium has relentlessly focused on unwavering integrity while perfecting the recruitment of subject matter experts for complex, mission critical projects. Our approach remains unchanged: Sweeping analysis of our clients' staffing initiatives and organizational culture, combined with a personal approach to long-term relationship building to identify the most impactful talent.