Our Blog
25 Reasons We've Had 25 Years of Success: 17. Our Collaborative Approach
17. Our Collaborative Approach
At Millennium Consulting, we don't have a team of account managers and a team of recruiters, we have one powerhouse team encompassing all. The staff at Millennium works together seamlessly to ensure we not only completely fulfill the requirements of our clients, but also place consultants in roles that emphasize their impeccable talent.
The lines of communication between clients, account managers, recruiters, and consultants are always wide open and ensure an unimpeded flow of critical information at all points of the staffing process. With multiple virtual meetings and informative phone calls per week, our account managers and recruiters are fully aligned based on in-depth industry knowledge, previous client engagements, and fluency in anticipated requirements. Over 25 years, we have honed our collaborative process to deliver the most positive experiences and consistent outcomes.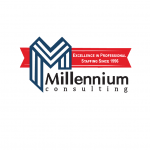 Author's Bio
For 25 years, Millennium Consulting has been a leader in professional staffing. Today, Millennium caters to a diversified portfolio of market-leading customers. Since its establishment, Millennium has relentlessly focused on unwavering integrity while perfecting the recruitment of subject matter experts for complex, mission critical projects. Our approach remains unchanged: Sweeping analysis of our clients' staffing initiatives and organizational culture, combined with a personal approach to long-term relationship building to identify the most impactful talent.