Take Your Career To The Next Level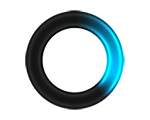 Oracle Financial Specialist
attleboro, MA - Added Jun 16, 2017
Full Description:
CURRENTLY LOCAL CANDIDATES ONLY
NO RELO
NO VISA SPONSORSHIP
Oracle Financials Specialist (EBS Development)
Oracle EBS developer with the following skill set:
Minimum of 3 to 5 years experience in creating new OAF Forms as well as do extensions on current e-business suite OAF forms.
Strong Java experience using J-Developer -Business suite with extensive experience in Release 12.1.3.
Extensive experience doing forms customization using custom.pll
Develop or modify E-Business suite reports as required.
The Oracle EBS Developer is expected to provide guidance, leadership and functionality knowledge transfer to staff.
The vendor must be able to demonstrate depth in Oracle Financials.
Provide technical and functional assistance for General ledger, procurement (including Purchasing, iProcurement, iSupplier, and Sourcing), Accounts payable and Accounts Receivable.
Troubleshoot and work with Oracle Support to resolve problems.
The Oracle EBS Developer must have the ability to create documentation, both technical and end user.
Extensive experience importing Purchase orders through the standard Oracle API preferred.
Deliverables:
OAF forms to extend iSupplier and other modules.
Extentions to iSupplier and other OAF forms.
New or updated reports.
Review with staff features in the review document to be implemented and to prioritize those features to be implemented.
Work with Oracle E-Business Group to implement prioritized features.
Document features and train staff on the use of those features.
Apply for Oracle Financial Specialist
Fill out the form below to submit information for this opportunity. Please upload your resume as a doc, pdf, rtf or txt file. Your information will be processed as soon as possible.
Start with Millennium.
The next phase of your Professional career starts here. Search our latest jobs and upload your resume. Get started:
Step 1 – Search our jobs listing below.
Step 2 – Upload your resume (.doc and .pdf formats are preferred).
Step 3 – Fill in all required fields. Click "Submit."
Step 4 – Congratulations! Your resume has been submitted to the Millennium team!